The Power of Presentations and Workshops at Trade Show Booths
Trade shows are essential events for companies to showcase their products, connect with potential customers, and generate leads. In the competitive world of trade shows, it is crucial to find unique ways to stand out from the crowd and capture participants' attention. An effective strategy is to conduct presentations or workshops at your trade show booth.
In this article, we will explore the benefits of conducting a presentation or workshop at your booth and how it can elevate your trade show experience to new heights.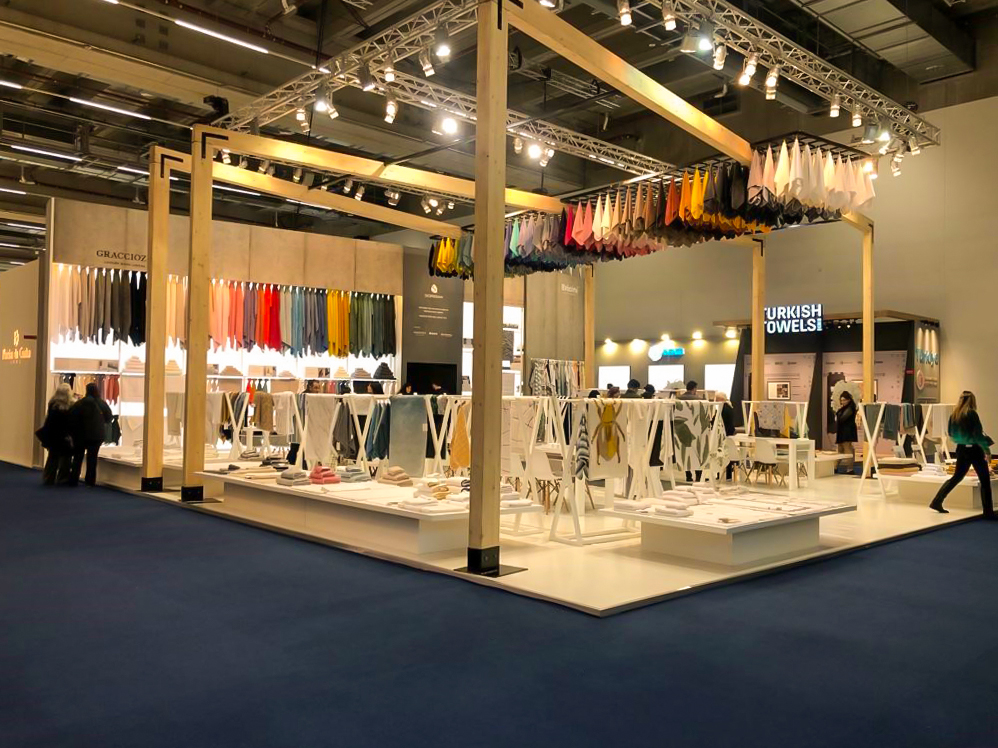 Heimtextil 2023 - Sorema SA
Engage and Educate Your Audience
Conducting a live presentation or workshop at your booth allows you to engage and educate your audience in a more dynamic and interactive way. Instead of relying solely on static displays, brochures, or product samples, a live presentation or workshop can capture participants' attention and create a memorable experience. This is an opportunity to showcase your expertise, demonstrate your products or services, and effectively communicate your brand message, leaving a lasting impression and meaningful connections with potential customers.
Conducting a presentation or workshop at your booth can also help increase booth traffic. Well-promoted presentations or workshops can attract a larger audience to your booth, resulting in increased foot traffic. Participants are more likely to visit your booth if they know there will be an engaging presentation or workshop. This can also create buzz and generate word-of-mouth marketing, attracting even more participants. Increased booth traffic can result in higher lead generation and better opportunities to convert potential customers into actual customers.
Establish Your Authority in the Field
Conducting a presentation or workshop at your booth can position your company as an authority in the field. This provides an opportunity to share your knowledge, insights, and expertise with your target audience. By showcasing your expertise through a well-planned presentation or workshop, you demonstrate that you are a trustworthy and authoritative source in your industry. This can improve your brand reputation, increase trust among potential customers, and differentiate you from competitors. Being an authority in the field can lead to increased brand recognition, customer loyalty, and ultimately, business growth.
Presentations or workshops at your booth can also provide excellent networking opportunities. During and after your presentation or workshop, you can interact with participants, answer questions, and engage in meaningful conversations. This can help you build relationships with potential customers, industry peers, and other stakeholders. Networking can open doors to new business opportunities, partnerships, or collaborations, and expand your professional network. Additionally, by establishing your authority through this strategy, you can attract the attention of other industry leaders, leading to valuable connections and future business opportunities. This can be an effective strategy to expand your industry presence and strengthen your professional network.
Customization Flexibility
Another advantage of conducting a presentation or workshop at your booth is the flexibility to customize it to your audience. You can and should adapt the content of your presentation according to the interests and needs of your target audience. This allows you to connect more relevantly and meaningfully with participants, making your presentation or workshop more appealing and valuable. Additionally, you can customize the format, timing, and style of your presentation to fit the specific characteristics of the event and participants' expectations. This is a way to create a unique and memorable experience for participants, standing out from other exhibitors.
Conducting a presentation or workshop at your trade show booth has immense benefits for your business. Remember to promote the action in advance, engage with the audience during the event, and continue the relationship with leads after the trade show ends. With a well-planned strategy and impactful presentation, you can make the most out of your trade show participation and achieve the desired success.
Start planning your presence at the next fairs today with our booth design and construction solutions.
Contact our sales team

.